Photo: Cecilia Johnson
What are you doing Saturday 7 Nov 2020? Why not take a moment to post your favorite underwater selfie and show your support for ocean conservation?
GoPro and PADI® are proud to sponsor the first-ever Underwater Selfie Day to raise awareness about the plight of our oceans. But we can't do it without you…
It's more than a selfie. It's a statement.
On Saturday, 7 November, post a selfie that shows your love for adventure and our ocean planet. By flooding social media with underwater photos and videos on a single day, divers around the world can speak in a united voice. We love our ocean planet, and it's worth protecting!
Give a shout out to your favorite dive site, inspire others, and you might win $2000 US or a new GoPro HERO9 camera. Read on to learn more about the contest, review tips from the pros on how to take a stellar underwater selfie.
Enter to Win $2,000 US or a new GoPro HERO9 Camera
On 7 November 2020, post your selfie (photo or video) to Facebook, Instagram or Twitter

Tag PADI and GoPro with #underwaterselfieday

We'll be sharing our favorites and giving away US$2,000 and three new GoPro HERO9 cameras.
If you can't go diving right now, no worries. Scroll through your saved photos and share your favorite underwater selfie from a past adventure. Visit the official Underwater Selfie Day page for additional contest rules and information.

Top 5 Underwater Selfie Tips and Tricks
Make sure your camera lenses are clean and your mask is clear

Avoid shooting directly into the sun

Try different angles (hold the camera straight in front of you, slightly above, etc.)

Use an extension pole, ideally one that articulates like

GoPro's 3-Way Arm

Use a red filter

to bring out the color




NOTE: GoPro HERO7 cameras (or newer) automatically color-correct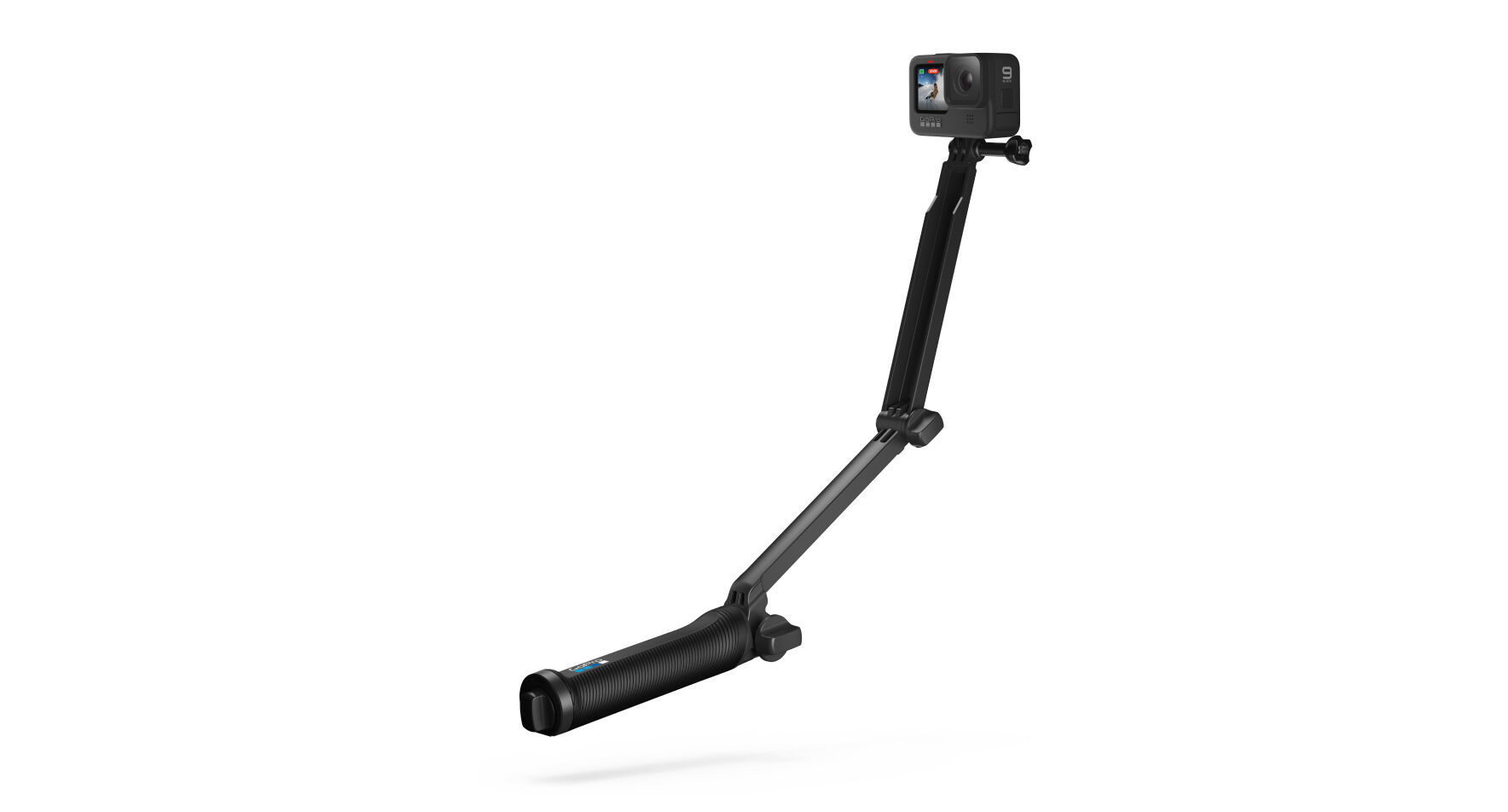 The best way to learn how to take great underwater photos or video isn't through trial and error. Sign up for the PADI Digital Underwater Photographer online course (which includes underwater video) to shorten the learning curve. When the time is right, schedule in-water training with a PADI Dive Shop or Instructor anywhere in the world.
How to Take Great Underwater Selfies With a GoPro
GoPro's continuous photo settings make it easy to get the perfect underwater selfie. Click the shutter once, and try different angles and poses. The camera automatically keeps shooting, so you never miss a moment. Delete pics where someone has their eyes closed, or there's a random fish tail, and keep only the good ones. Here are three different options:

Time Lapse (Photo Mode): your GoPro will snap a pic every 0.5 seconds up to every 60 seconds (you choose). This is the go-to option if you want tons of pics to choose from, but, as PADI AmbassaDiver™ and GoPro Family member Kiersten Rich (The Blonde Abroad) notes, "You'll need lots of light to capture images in 0.5-second intervals without blur."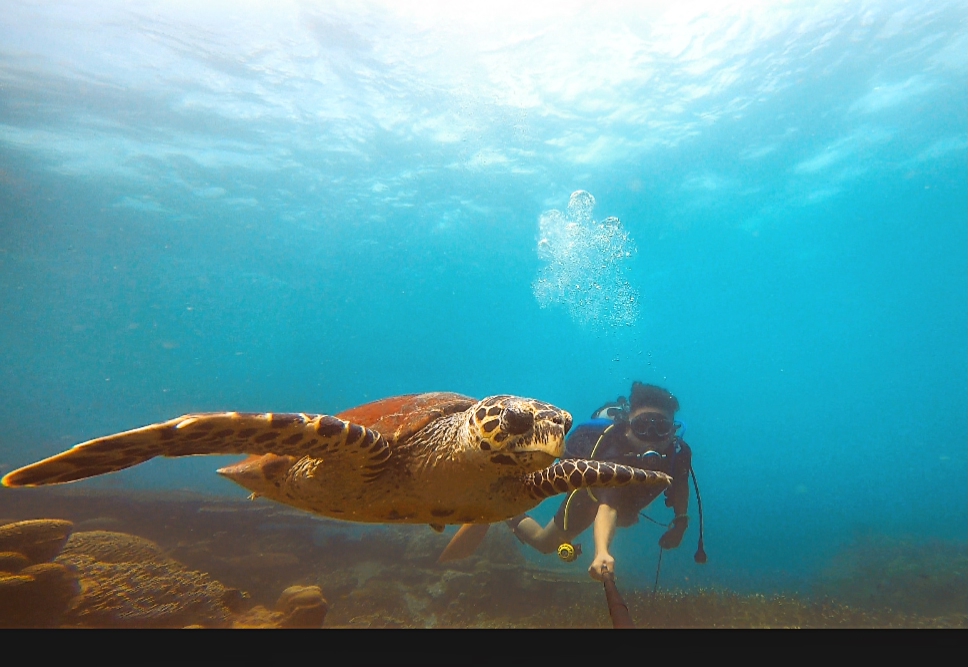 LiveBurst: if you have a HERO8 (or newer), use LiveBurst to capture images 1.5 seconds before and after you hit the shutter. Underwater selfie/dive expert and GoPro Family member Baki Zainal says he always switches on LiveBurst before heading out for a dive.
"Marine life can swim by in seconds, so you always need to be ready for the big moment! To make sure I don't miss the shot, I turn LiveBurst mode on because it captures 1.5 seconds before and after I hit the shutter button, giving me 3 seconds of 4K underwater video footage that I can use as photo content."
If you have an older GoPro, use Burst mode instead. When you click the shutter, you'll get up to 30 images in one second, or 10 images in two seconds (whatever you choose).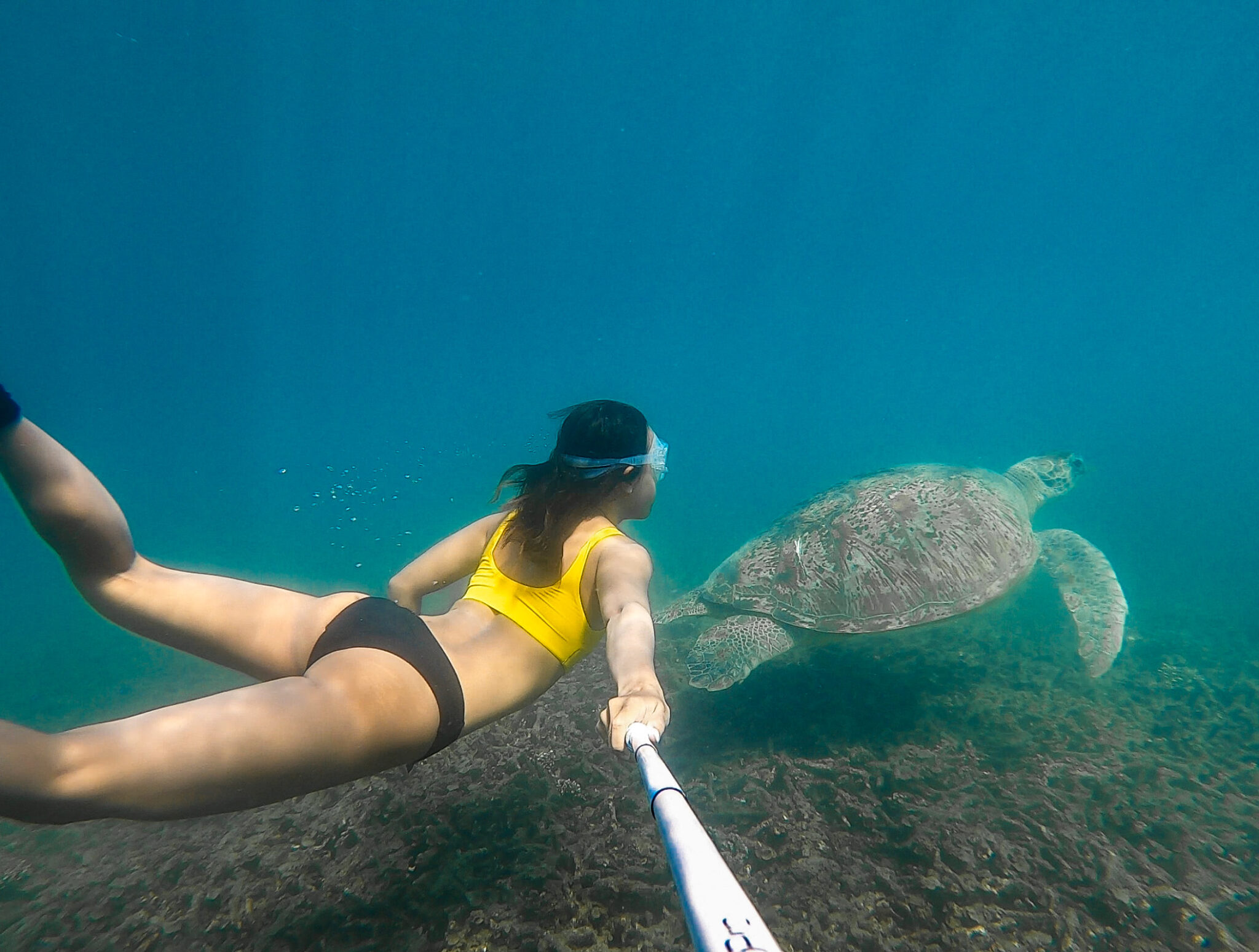 Freediver and GoPro Family member Nicole Aloha recommends using video frame grabs. Start in video mode, then set your camera to:

Resolution: 2.7K

Mode: Video

Lens: Wide

Color: GoPro
Use your favorite video editing software to save the best frames as selfies.
GoPro's HERO9 With Front-Facing Display Makes It Easy to Take Great Selfies
The newest GoPro, HERO9 Black, makes it easy to frame up the perfect selfie every time. Use the front-facing screen with a live preview to get the right angle on your background and make sure there isn't a random spot of fog on your mask. Capture 20MP pics (or 14.7MP frame grabs from 5K video), and crop the perfect shot without losing important details.
Not into editing? Switch on SuperPhoto and automatically get the best image for your lighting and environment.
Read more about the latest GoPro innovations. Or, visit GoPro.com/Awards for more contest opportunities, including the 2020 Million Dollar Challenge.
Further Reading
From Selfies to Silhouettes: How To Take Better Photos Underwater
How to Take Amazing Travel Photos with a GoPro
How to Shoot Great Underwater Video With Your GoPro
NOTE: This article contains Amazon Associates links. Any revenue earned from qualified purchases of linked products will be donated to Project AWARE.
https://diveayianapa.com/wp-content/uploads/2020/05/padicdlogo2bw-300x84.png
0
0
ScubaJoey
https://diveayianapa.com/wp-content/uploads/2020/05/padicdlogo2bw-300x84.png
ScubaJoey
2020-10-26 20:25:47
2020-10-26 20:25:47
Underwater Selfie Day – Let's Flood Social Media With Love for Our Oceans