Project AWARE is a nonprofit organisation dedicated to protecting our big blue spaces. #TeamOcean is the passionate fundraisers out there, each doing their bit to help Project AWARE carry out the great work they do. And that's where you come in…
When you #fundraiseathome for Team Ocean, you take the future of the seas into your own hands. Help us reach our 25K goal for 2020, and have fun simultaneously. It's called FUNdraising for a reason!
To do your bit for marine conservation, raise awareness, and educate others, here are five fundraising ideas that you could try:
1. Rubbish art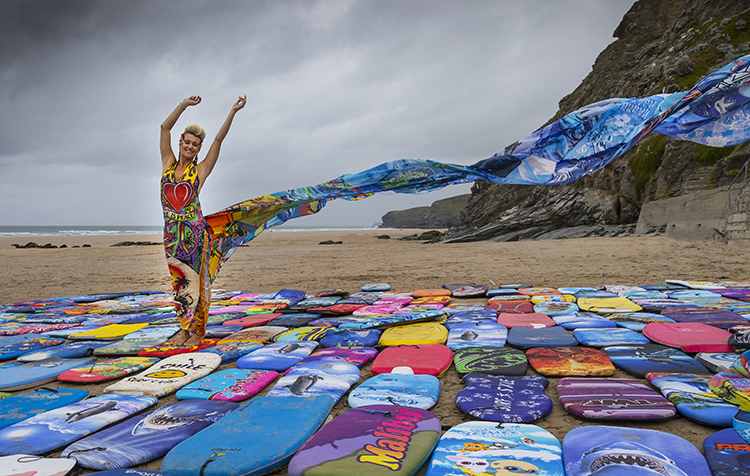 8 million metric tonnes of plastic ends up in the ocean every single year. Why not repurpose some of that plastic into beautiful art? Searches for "ocean trash art" are up +39% on Pinterest this year, so we think people will be into it. You could organise a "build ocean trash art" workshop at a community centre or school and then invite people to come and view your creations for a £3 entry free. All proceeds go towards Project AWARE, and you get to flex your artistic talents in the process, win-win.
2. Ethical is the new black
Did you know? Up to 1,500 gallons of water are needed to grow the cotton for a single pair of jeans. And, the fashion industry is responsible for 10% of humanity's carbon emissions. This knowledge is an excellent incentive for organising clothes swaps in your local community. You could suggest a £10 entry fee, and everyone gets to walk out with a whole new wardrobe. One woman's trash is another woman's treasure! And it feels so much more comfortable to wear when you know it's ethical.
3. Happy Birthday, Oceans
When your birthday rolls around, do you struggle to think of gifts that you want or need? Why not dedicate your birthday to giving back to the environment? Facebook allows you to create a charity fundraiser. Set one up, send the link to your loved ones, and request that they donate to Project Aware this year instead of buying you another scarf that may end up at the back of a cupboard.
4. Dress down day
People love an excuse to ditch the unflattering office attire or uncomfortable school uniforms. And if it's for a good cause, how can your boss or teacher say no? Suggest £2 per person, and everyone can come in for a day dressed in their favourite blue themed outfit to honor the sea. This could become an annual event every year on World Ocean Day (8th June), Earth Day (22nd April), or any other environmental days coming up.
5. Get your bake on
You don't have to be Delia Smith to be able to bake delicious fish-shaped cookies or cupcakes with a little fondant octopus on top. How about setting up a bake sale at your school, office or community centre, with the theme of ocean conservation and selling your delicious creations? Encourage others to bring a stall too, and you'll be raising money in no time.
For more ideas go to www.projectaware.org/fundraise, where you can also download your Fundraising Action Kit and create your personal or team fundraising profile.
https://diveayianapa.com/wp-content/uploads/2020/05/padicdlogo2bw-300x84.png
0
0
ScubaJoey
https://diveayianapa.com/wp-content/uploads/2020/05/padicdlogo2bw-300x84.png
ScubaJoey
2020-10-25 04:29:45
2020-10-25 04:29:45
Join #TeamOcean: 5 Fundraising Ideas to Help Save our Seas