Travel isn't the same in 2020. Things are changing every day, and that can make it difficult to keep up with what's allowed and what isn't. As dive travelers, you need the most accurate scuba diving and travel restrictions, so you can get your gills wet and explore the underwater world with confidence.
For that reason, we've rounded up the most relevant information for traveling and scuba diving during the COVID-19 pandemic. Below, you'll find interactive travel resources, COVID-19 travel information by country as well as our picks for the top 10 most accessible diving destinations right now.
---
---
Choosing Flexible Booking Options for Dive Travel
Right now we understand it's difficult to plan ahead, and booking travel might be risky. That's why PADI Travel has worked with our incredible operators to offer free cancellation for any reason up to eight days before the trip start date and deposits as low as 5% on many packages. Just book by December 31, 2020.
In this way, you can make travel plans knowing you're protected and can be assured you won't miss out on stunning underwater adventures, even as travel restrictions and situations change.
---
COVID-19 Scuba Diving & Travel Restrictions by Country
Is scuba diving allowed right now? What's open and what's closed? This map shows the most up-to-date info on which countries have scuba diving restrictions.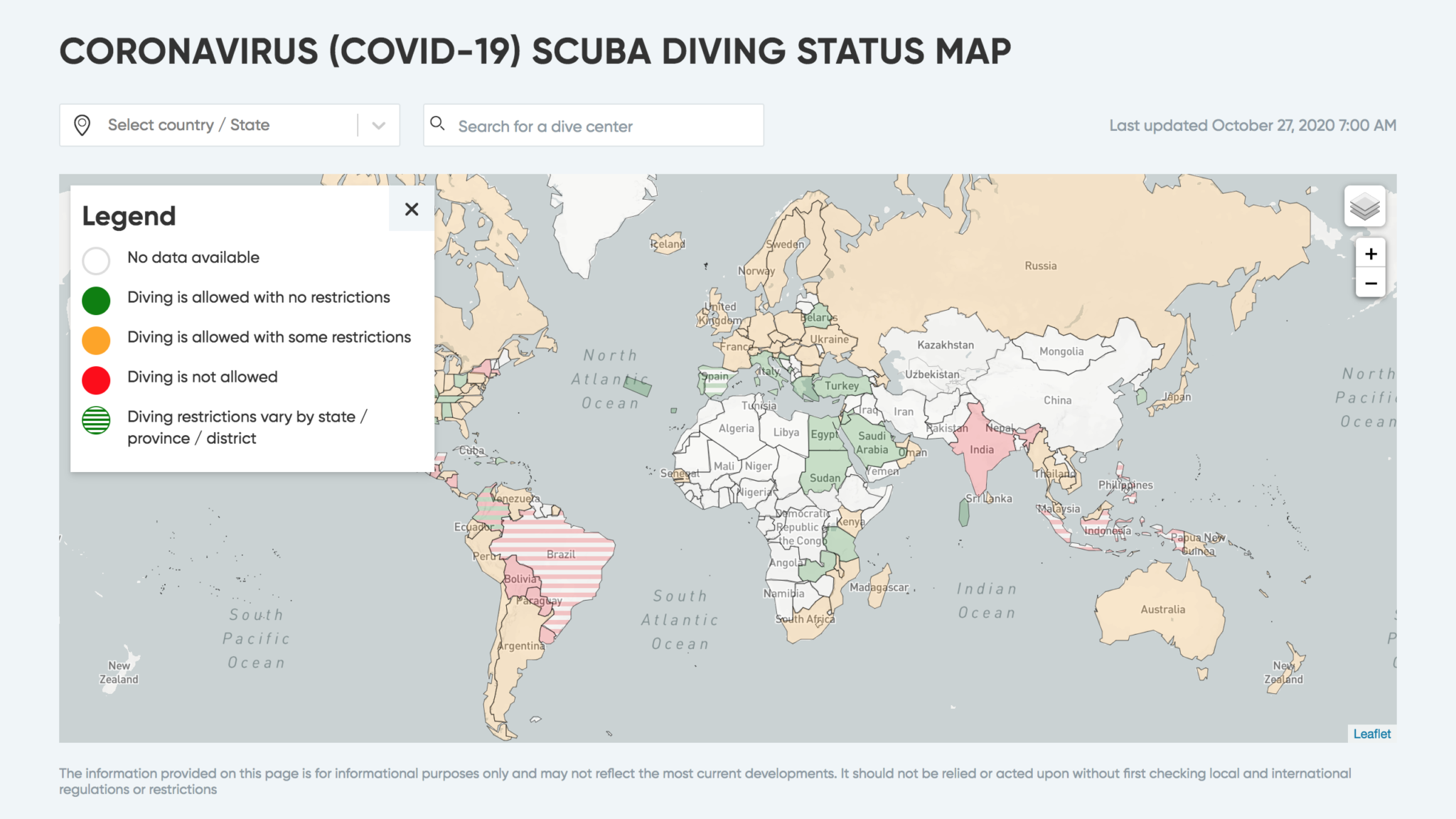 Get more information on where this data comes from here.
---
Useful Resources for Scuba Diving & COVID-19
---
Check Your Local Government's Advice
Due to the rapidly evolving nature of country specific travel restrictions and guidelines, we recommend that you not only check for the latest advisories on the official website of the country you will travel to (see "COVID-19 Travel Restrictions for All Dive Destinations" below), but also check with the governmental organization in charge of foreign travel advice in your home country.
---
Airline Coronavirus Information
One of the toughest things about travel is getting to your destination. That's especially true during the COVID-19 pandemic. To help you out, below we list the world's most popular airlines and link to their websites about their COVID-specific policies. That way, you can make an informed decision about whether now is the right time to fly and which airline will best serve your needs in these tumultuous times.
---
COVID-19 Travel Restrictions for All Dive Destinations
Below, you'll find the most up-to-date links to the COVID-19 entry restrictions for most diving destinations around the world.
---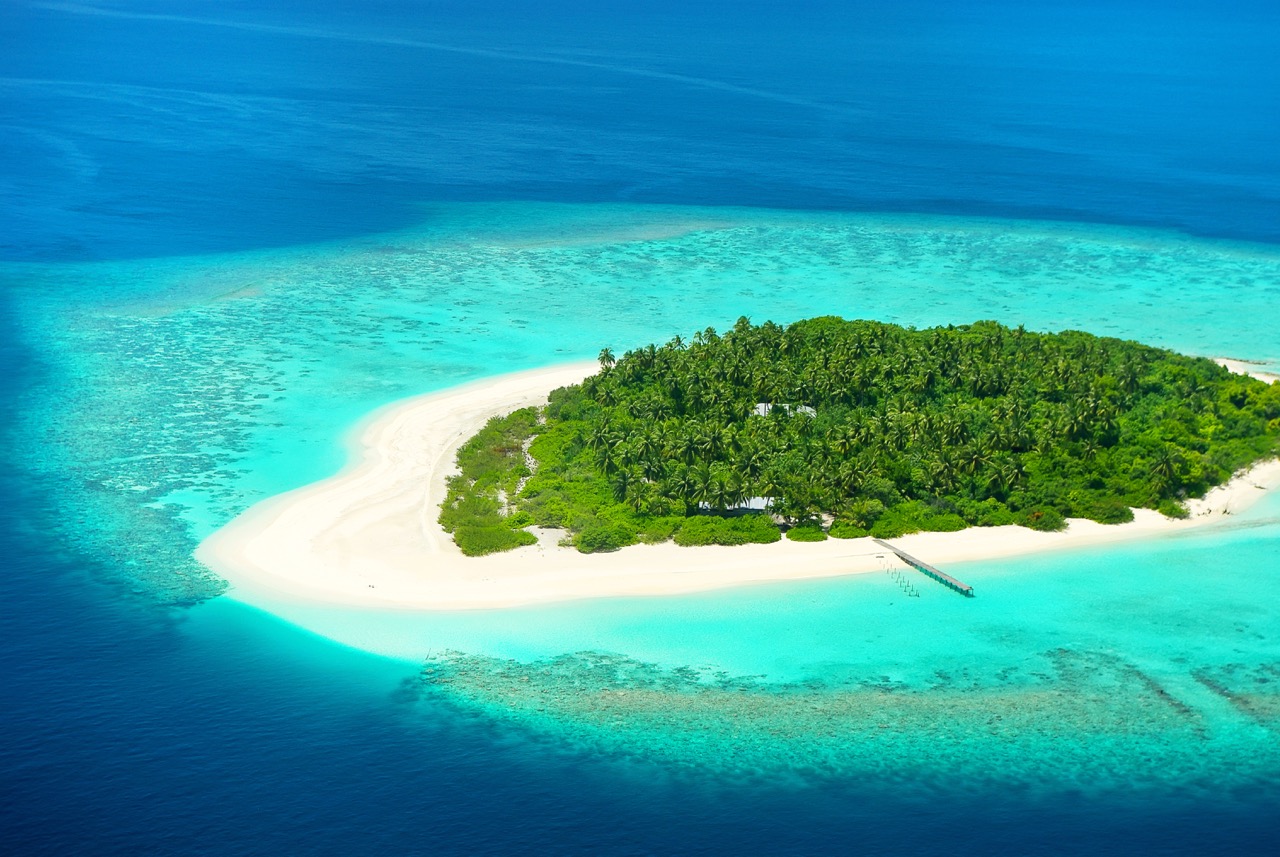 Top 10 Countries Where You Can Go Scuba Diving Right Now
So, you're ready to get your gills wet again, and you're itching for an international break. We've got you covered. These are the top 10 countries that are accessible for most scuba divers around the world.
Mexico
Whether you choose to visit the Atlantic or Pacific side of Mexico, you're in for a treat. Diving in this country means seeing colorful coral reefs, sharks, manta rays, sea lions and, even, picturesque underwater statues. Plus, Mexico will stay tropically warm throughout the impending winter months. Just be sure to take hurricane season into account when booking your trip.
Maldives
Picture perfect islands and waters full of whale sharks, manta rays and tropical marine life welcome divers to the Indian Ocean country known as the Maldives. If you're looking for a special dive trip for your first one post-lockdown, a liveaboard or private island stay in the Maldives would make for a memorable and relaxing vacation.
Egypt
The Red Sea is calling, and now you can answer the call. Egypt has opened its borders to tourists from most countries, so get ready to dive into colorful coral reefs, alongside sharks, dolphins and dugongs.
French Polynesia
Want to swim with humpbacks and dive with sharks? Head to French Polynesia. The islands and atolls of this South Pacific country are as romantic as they come. But be warned, you may never want to leave.
Ecuador (Galapagos)
Home to the top-of-the-bucket-list-worthy Galapagos Islands, Ecuador is a dream diving destination. Luckily, it's also one of the most accessible post-COVID destinations, too. So, throw your gear in your bag and book a trip to this South American wonderland.
Bahamas
The Bahamas has two amazing selling points as a first trip post-COVID. First, for North American divers, the island country doesn't require a long flight. Second, the country is full of sharks, from hammerheads to tigers. Although the Bahamas' Vacation in Place scheme may be more restrictive than others on this list, it may be worth traveling to for those bucket list shark dives.
Croatia
Although Croatia is often passed up by divers for more tropical destinations with a plethora of megafauna, this small, European country has a ton to offer. From shipwrecks to seahorses and octopuses as well as hundreds of picture perfect islands in the Adriatic Sea, Croatia is giving divers the opportunity to explore its coasts now. Plus, it's one of the only European countries open to Americans. But, be sure to book your trip quickly. The diving is good year-round, but the tourist season only lasts until November.
Tanzania
Aquarium-like conditions, whale sharks and an array of marine life makes Tanzania one of the world's premier diving destinations. Zanzibar, Pemba and Mafia are the three main diving islands, and all of the dive sites are currently open to tourists without restriction.
Costa Rica
From diving with hundreds of hammerhead sharks at Cocos Island to the bull sharks of the Bat Islands, no matter what adventure you crave, you'll find it in Costa Rica. And, when you aren't diving, the topside activities are pretty epic, too. Now that Costa Rica has systematically opened to tourism, you can confidently book your trip to this Central American country.
Aruba
Aruba, Jamaica, ooo I wanna take you. We all know the words to the song, and while most of the countries in the lyrics are still off limits, you can head to Aruba for a scuba diving adventure. Dive into the tropical coral reefs and swim alongside colorful marine life during the day, then enjoy the gorgeous beaches and Caribbean vibes all evening long.
---
A Special Note on Europe
While countries within the Schengen Zone may be off-limits for many people around the world, those lucky enough to live within the European Union can travel freely across most of these borders, except where restricted by COVID-19 regulations. In these times, prices are very attractive.
That means Europeans can access amazing scuba diving destinations, like Greece, Malta, Italy, Spain, France, the Azores, Cyprus and more. As an added bonus, these destinations are far less busy than usual, giving Europeans premier access to some of the best dive sites on the continent.
You can book a trip to any of these destinations on PADI Travel or using the PADI Adventures app.
---
What PADI Dive Resorts & Liveaboards are Doing to Combat COVID-19
PADI Travel and its dive resorts and liveaboards are taking COVID-19 precautions very seriously. In order to keep our divers safe, we've asked each of our dive resorts and liveaboards to provide us with information about what specific protocols they're enacting during this pandemic.
To offer reassurance before you book, you'll find the information about what enhanced measures each operator is taking to protect you from Covid-19 as you browse the PADI Travel website.
---
#DiveLocal
Even if you can't travel to your favorite diving destinations right now, you can still dive locally. Seek your own adventure close to home with the PADI Dive Shop Locator or the PADI Adventures app.
The PADI Adventures app provides all the information you need to find local diving adventures and book them quickly and easily online. With this app at your fingertips, you'll be diving faster than you can say download.
---
When Was This Article Last Updated?
This article was originally written on October 27, 2020. Any future updates will be recorded here.
Please note: This information was last updated on Oct 27, 2020 based on public sources. However, the international travel situation is changing rapidly and thus we can not accept any responsibility for its accuracy. We will attempt to update this article frequently, but it's always best to check with your local government, the government of your destination and your travel provider directly.
---
Ready to book your first post-COVID dive trip? Browse all the available dive resorts, liveaboards and day trips on PADI Travel.
https://diveayianapa.com/wp-content/uploads/2020/05/padicdlogo2bw-300x84.png
0
0
ScubaJoey
https://diveayianapa.com/wp-content/uploads/2020/05/padicdlogo2bw-300x84.png
ScubaJoey
2020-10-27 22:04:16
2020-10-27 22:04:16
COVID-19 Diving & Travel Restrictions by Country