From Hyères to Menton, the French Riviera boasts the largest concentration of dive sites in France. Every summer, from June to September, divers can enjoy the best conditions in terms of water temperatures (from 18 to 26°C) and visibility (20 to 25 m). Good to know, the water is still warm enough to dive in a wetsuit until November. While a few spots are perfect to learn scuba diving, the depths of its mysterious shipwrecks and breath-taking walls are ideal for advanced divers who have the deep specialty or tech diving training.
Port-Cros National Park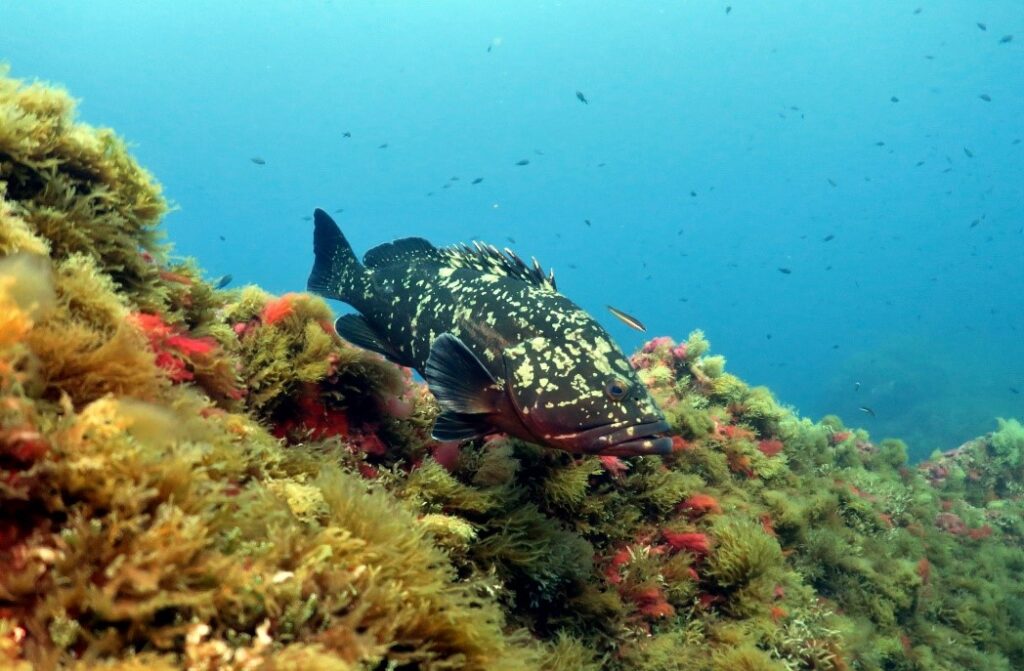 Located between Toulon and St-Tropez, Port-Cros National Park was the first marine park to be created in Europe in the 1960s. So it's no wonder that after being protected for so long it's become one of the favourite dive sites for French divers. Within the core area of the national park, where fishing is strictly prohibited, the most famous dive site is "La Gabinière"; a deep drift dive where numerous large groupers are not afraid to come to check you out.
Wreck diving in Cavalaire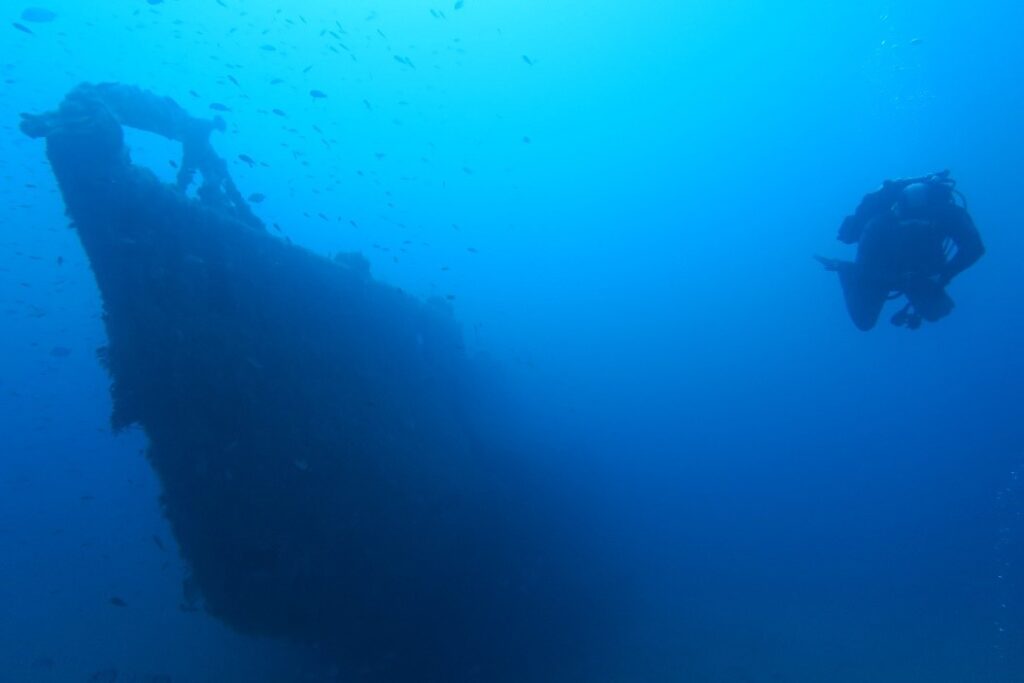 Only 17 km west of St-Tropez, Cavalaire has quickly become the place to go for wreck diving and tech diving training including advanced nitrox and trimix thanks to the number of exciting shipwrecks to explore including the "Torpilleur 178", between 45 and 48 m deep, or the "Togo", between 47 and 58m deep. No worries, recreational divers can have fun too in Cavalaire as long as they are Advanced Open Water divers with a Deep Diver specialty. How does exploring the wreck of a WWII submarine, sound? The maximum depth of the "Rubis" is "only" 40 m.
Underwater macro photography in St-Raphael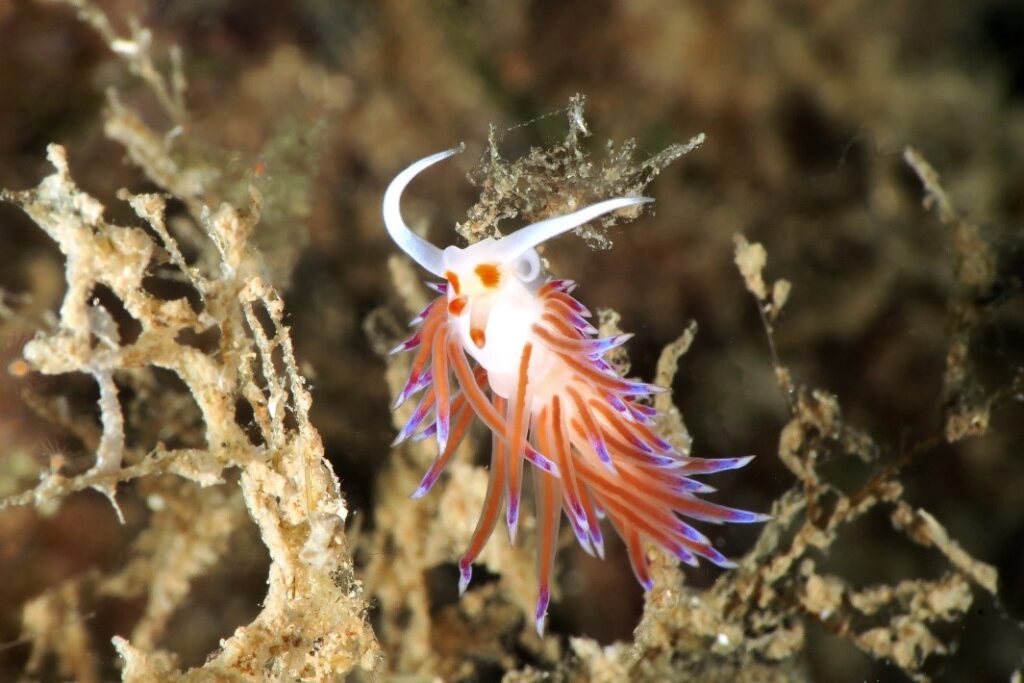 The Esterel mountain range is famous for its scenic red rocks dropping directly into the blue of the Mediterranean Sea. In St-Raphael, several dive sites are a delight for marine biology or underwater photography enthusiasts. One of them is called the "Lion de Mer", a rocky islet which both shallow waters for beginner divers and deep walls for the most experienced of us. Colourful nudibranchs, curious hermit-crabs, shy seahorses, and so much more are waiting for patient scuba divers with an eagle-eye.
An underwater village in Golfe-Juan
If quirky dive sites are your thing, you are going to love diving at the "Fourmigue" lighthouse in Golfe-Juan, between Cannes and Antibes. With a maximum depth of 15m, all level of divers can explore the miniature underwater village. It was built in the 1990s to serve as the set of an animation movie. Despite the filming project not working out, today the "village" is still there and counts several houses, a cathedral, an amphitheatre and even a pyramid!
Wall diving in Nice
Nice, must be the most accessible place to go scuba diving in the whole of France, not just the French Riviera! You can hop on a tram at the train station or the airport and go directly to the harbour, right in the heart of the city. From there, several dive centres can take you on their boats to breath-taking deep walls in 10 to 20 minutes, including the superb "Pointe Caussinière". From the 30-35 m, red and yellow gorgonians form elegant bouquets where moray eels play hide and seek.
We hope you enjoyed this blog post about places to dive in the French Riviera, if this has inspired you to dive here, then find your local dive shop now! Or check out our blog post on more top diving regions in France!
---
Author Bio
Florine is a PADI Divemaster and a Dive Travel blogger at World Adventure Divers. She dives in tropical to extreme cold waters, selecting her destinations when both adventure diving and cultural discoveries are part of the journey, and showing you how to do it without breaking the bank.
https://diveayianapa.com/wp-content/uploads/2020/05/padicdlogo2bw-300x84.png
0
0
ScubaJoey
https://diveayianapa.com/wp-content/uploads/2020/05/padicdlogo2bw-300x84.png
ScubaJoey
2020-10-16 13:09:45
2020-10-16 13:09:45
5 Diving Highlights of the French Riviera